November 8th Visit of the Right Reverend Nathan Baxter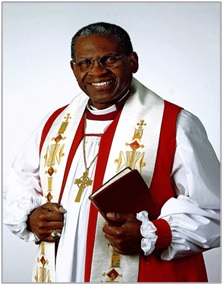 The Right Reverend Nathan Dwight Baxter was born on November 16, 1948 in Coatesville, Pennsylvania to the Reverend Belgium Nathan Baxter and Mrs. Augusta Ruth Baxter. Bishop Baxter's paternal grandfather was an ordained African Methodist Episcopal minister, and his father was a pastor in the Church of God in Christ. Bishop Baxter's mother was also a
Christian educator so from a young age he was immersed in the work of the Church, both lay and ordained.
After graduating high school in 1966, Bishop Baxter attended the IBM Institute in Endicott, N.Y. and worked as a customer engineer with IBM. He also was ordained in 1968 as a minister in the Church of God in Christ. That same year he was drafted into the US Army. He initially applied for conscientious objector status. However, after being denied, he served two years as an unarmed medical corpsman in the United States Army. His service was distinguished by receiving the Vietnam Cross of Gallantry with Palm and the Combat Medic's Cross. After he was discharged in 1971 he attended HarrisburgCommunity College and went on to obtained a Master of Divinity degree from Lancaster Theological Seminary in 1976 and Doctor of Ministry degree in 1984. He completed various other post-graduate certificates and studies including Harvard Graduate School of Education and Graduate Theological Union in Berkley, CA. He is recipient of over twenty University awards including eight honorary doctorates.
He became an Episcopalian in 1974. After competing Canonical Studies and exams at DiocesanSchool for Ministry, Bishop Baxter was ordained to the diaconate in June 1977 and Priesthood in December 1977. He began his ministry as a curate in the Diocese of Central Pennsylvania. During his career, he has served parishes in Pennsylvania and Virginia. He has also served as Dean and faculty member at Lancaster Theological Seminary, the Episcopal Divinity School; and as Chaplain and professor at St. Paul's College. In 1992, he was installed as the 8th Dean of the Washington National Cathedral and Chief Administrative Officer of the Protestant Episcopal Cathedral Foundation, which included eight institutions and auxiliaries. During his tenure the Cathedral completed its largest capital campaign in its history and heightened its recognition as "The Nation's Church", including Presidential Inaugural services, funerals for leaders such as Thurgood Marshall, Ron Brown, the American Memorial Service for Princess Diana; and the Service of Prayer and Remembrance following the 9/11 terrorist attacks attended by Congress, Supreme Court, Joint Chiefs of Staff and the President. During his tenure Cathedral annually attracted over a million visitors. In 2003, he stepped down as Dean of the Cathedral and returned to Central Pennsylvania, where he became Rector of St. James Episcopal Church, Lancaster, PA.
On October 21, 2006, Bishop Baxter was elected as the 10th Bishop of the Diocese of Central Pennsylvania. Bishop Baxter led his diocese capably and pastorally through several dramatic changes in the Episcopal Church and in neighboring dioceses. He also served as a Peer Coach for new bishops through the Episcopal Church's College for Bishops and was the founding Convener of Episcopal Bishops of African Descent, known as EBAD. He retired in May 2014.
Bishop Baxter has been married to his childhood sweetheart, Mary Ellen Walker Baxter, since 1969. Mary Ellen has degrees from HamptonUniversity and HarvardUniversity. She has had a successful career as a secondary school administrator and music teacher, retiring in 2008. She continues as a violist in the West Shore Symphony. The Baxter's raised two children and two foster children and are now blessed with nine grandchildren.